YK42-3 Controller




Product Specification

TNC Scooters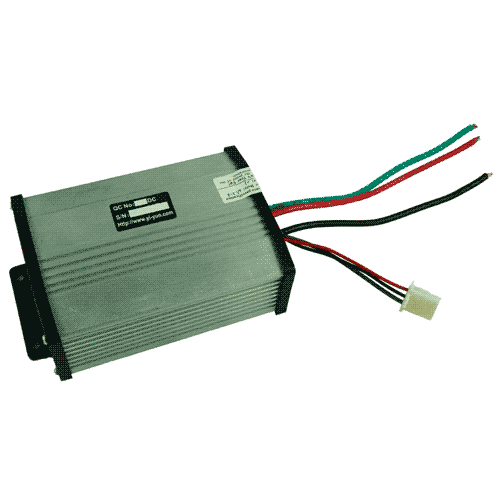 YK42-3 - Technical Parameters
Rated Voltage

36 Volts

Rated Current

40 +/- 1.0 Amps

Rated Motor

Up to 800 Watts

Conversion Efficency

95%

Under Voltage Protection

30.5 +/- 0.5 Volts

Speed Control

Hall Effect Throttle
(1 - 4 Volts)

Dimensions

12.5 cm x 9.0 cm x 4.6 cm

YK42-3 - Installation & Wiring
Power & Motor
Connector Plug:

See Notes: 1, 2, 3

Derailleur
-or-
Throttle
Connector Plug: DJ7031A-2.8-21


NOTES
1. The Motor and Battery connectors on the YK42-3 controller share a common positive (RED) wire. The positive lead of the controller is attached to the positive lead of the battery and the positive lead of the motor.
2. When connecting the controller to the battery a small spark may occur this is normal.
3. Make your battery connection your last connection.
4. Controller uses standard Hall Effect (3 - Wire) throttle.